The Headless CMS That Fits Your Tech Stack
Accelerate innovation with our headless CMS. Seamlessly manage content across your digital ecosystem - websites, apps, devices and more. Build quickly and scale fearlessly. Own your tech stack from end to end.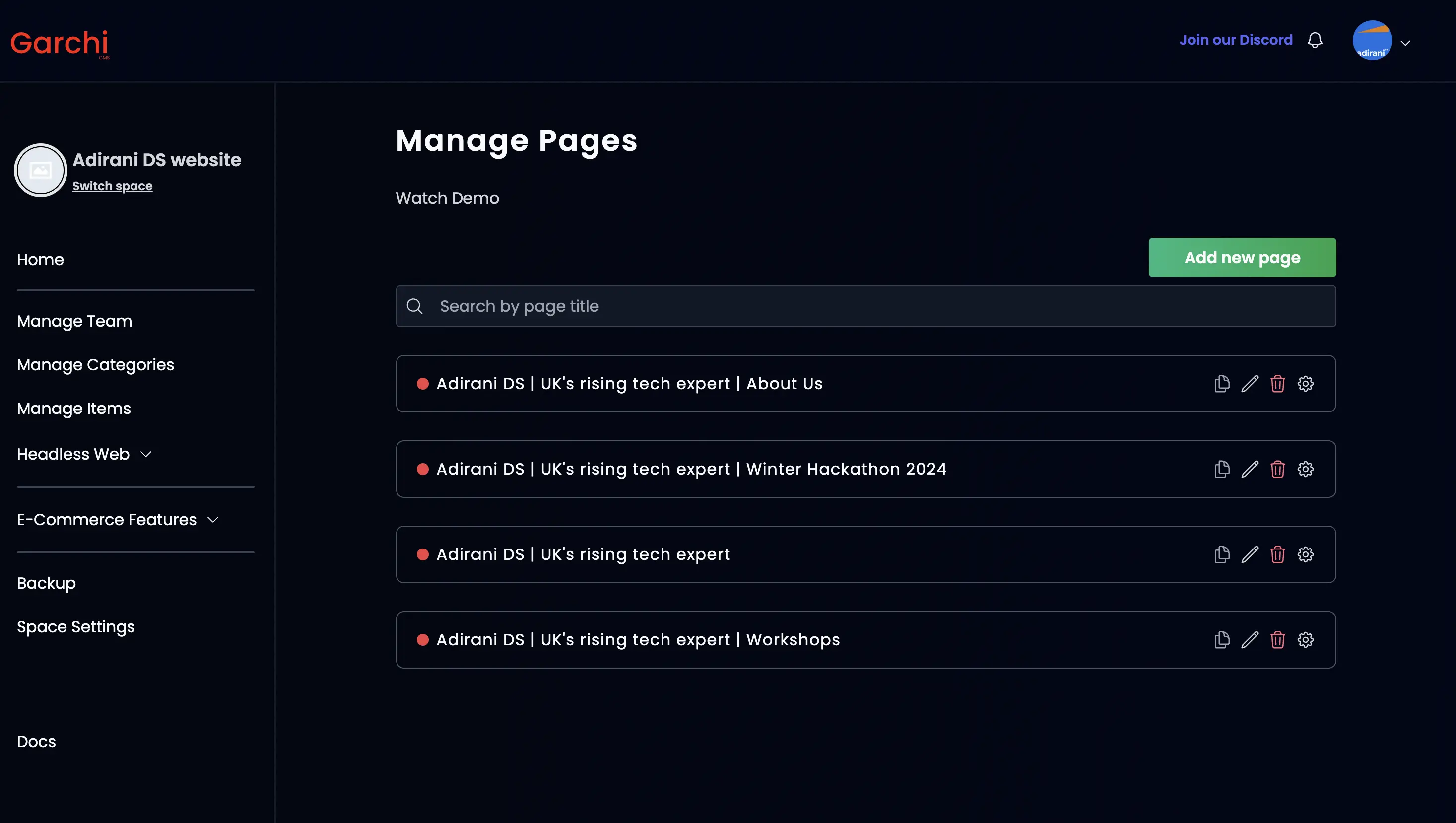 Developer-Friendly Features That Empower Your Content Team 🔥
Built by Adirani Digital Solutions Ltd., Garchi CMS is crafted with developers in mind while enabling content teams to seamlessly manage their workflow.

Fast API Performance

Our APIs are optimized for speed, providing quick response times.

Team Collaboration

Create workspaces to collaborate with your team members on projects.

Intuitive & Easy to Integrate

With thorough docs and an intuitive API, integration is seamless. The REST endpoints work with any tech stack.

Secure Storage

We use trusted and diligent cloud hosting provider to keep your data safe and secure.

Build Custom Data Models

Flexibly extend the content schema with our metadata system. Create customized key-value pairs to store any data your project requires.

Excellence Through Focus

We don't do everything. We do a few things exceptionally well.
What makes Garchi CMS different?
Garchi's philosophy is simple: Enhance the tech stack, don't dictate it. Be agile, not fixed. Simplify, don't overcomplicate.
Integrate Garchi CMS into your tech stack in just a few lines of code. It enhances your stack without deviating from your code structure or style. Remove it with the same ease when needed.

As a startup, we understand evolving needs. Our adaptive CMS integrates with your backend tech stack - whether Firebase, SQL, or your own server code. It complements your existing components, molding to your changing business landscape.

Built for motivated teams and talented individuals. Developers integrate then build the innovative features. Non-technical creators handle content with ease. Continuously improve and scale your solution as your business evolves.
One CMS, Endless Applications
Whether you envision a web and mobile platform, or delivering content across devices, our headless CMS empowers you to own your entire digital ecosystem. The possibilities are endless when simplicity meets versatility.
Event booking platforms

E-commerce store

Image galleries

Movie platforms

E-learning platforms

CRM

Blog

Portfolio website

And much more ...
Craft Flexible Content with Data Items
Data items provide the foundation for all your dynamic content needs. Start with a simple base schema, then customize it by adding any fields you want like authors, ratings, categories, images, custom attributes, and more.

Data items make it easy to manage structured content of any kind - product listings, blog posts, menus, user profiles, and anything else you can imagine. The flexible schema allows endless customization to match your exact requirements.

Learn More
Built to complement your tech stack
A CMS that integrates, not dictates
Garchi CMS brings structured content to your stack, not the other way around. It complements your choice of frameworks and databases.
Adaptable & Flexible

Whether using Firebase, Supabase, MySQL or any other database, Garchi integrates flexibly. Store your content and data in Garchi. Build the rest of your stack with your preferred frameworks, databases, and third-party services if needed.

Simple & Straightforward

Integrating Garchi CMS with your tech stack is super straightforward. It's as simple as adding a few lines of code to your project. It is crafted in a way so that you follow your own natural development workflow.

Powerful & Scalable

Garchi CMS focuses solely on managing your content and data. It provides powerful features like data items, reusable sections for headless pages, and APIs to build fully dynamic sites. Integrate it seamlessly with modern web frameworks.